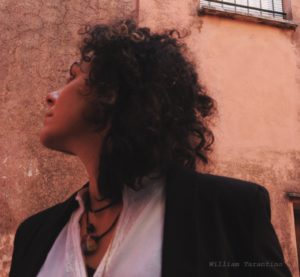 Testi poetici quanto diretti, malinconia ma anche una vena ironica e a tratti surreale, un'attitudine rock-folk che non disdegna la sperimentazione: queste alcune delle caratteristiche della poetica della cantautrice, musicista e artista genovese Cristina Nico.
Dopo avere preso parte a diversi progetti della scena genovese, tra cui le Cinnamomo, duo dalle sonorità indie-goth con Cristina Nicoletta alla voce e alle chitarre e Francesca Traverso ai synth, la cantautrice si fa notare dagli addetti ai lavori con l'ep+libro "Daimones"(Cristina Nicoletta, 2010), primo lavoro solista, totalmente autoprodotto. Tra i vari premi e menzioni, nel 2014 si aggiudica il Premio Bindi, prestigioso premio per la canzone d'autore, con la ballade "Le Creature degli Abissi". Per la OrangeHomeRecords di Raffaele Abbate pubblica nel dicembre 2014 il suo primo album di lungo respiro "Mandibole", registrato al GreenFog Studio da Mattia Cominotto con la produzione artistica di Tristan Martinelli (Numero 6, Roberta Barabino, Dejan e l'Orso Glabro). Nelle candidature alle Targhe Tenco del 2015 è in lizza nelle sezioni Opera Prima e Canzone Singola. Nel 2016 gli Yo Yo Mundi la invitano a cantare nel brano "Cuore Femmina", contenuto nel loro ultimo disco "Evidenti tracce di felicità", e ad aprire diversi concerti della storica band piemontese. Il secondo disco, anticipato dall'omonimo singolo e videoclip, "L'Eremita", è uscito a giugno 2018 sempre per OrangeHomeRecords; buona parte delle canzoni erano già state testate dal vivo in un energico set chitarra-voce-batteria che vedeva ai tamburi Federico 'Bandiani' Lagomarsino, ma durante la produzione del disco si sono aggiunti i preziosi apporti di Osvaldo Loi alla viola, Robi Zanisi agli strumenti a corda etnofolk e dello stesso Raffaele Abbate, questa volta anche produttore artistico insieme alla stessa Nico, ai samples elettronici. Pubblicato a giugno 2022 il terzo disco, "Cristina Nico" (Lilith Label / Orange Home Records, 2022), registrato con Giulio Gaietto e l'ormai consolidata squadra di musicisti presso lo Studio77 di Genova. Un lavoro che miscela folk, rock, world music e che ha fatto ulteriormente notare l'artista per la sua capacità di tenere assieme una grande attenzione alle sonorità con quella per le liriche, mai banali. Nico in questo disco ha usato anche il francese, l'inglese e il dialetto calabrese.
Con Sabrina Napoleone e Valentina Amandolese ha formato le INA/INA/INA , attive dal 2018 al 2020. Con loro ha anche fondato, nel 2010, l'associazione culturale Lilith, con cui organizza eventi e iniziative per dare spazio e visibilità alle donne nella musica e nell'arte e combattere ogni forma di discriminazione e violenza, in particolare quelle di genere. L' evento di punta dell'associazione e collettivo è il Lilith Festival della Musica d'Autrice.
Con la poetessa e attrice Bettina Banchini ha scritto, musicato e interpretato "Les Electriques", spettacolo di musica e poesia contenente anche testi di Dorothy Parker, Samuel Beckett e altri autori. Con Cristina Cavalli, Irene Serini e Sabrina Napoleone ha scritto, musicato e interpretato lo spettacolo "Niente Niente", andato in scena nell'aprile 2019 al Teatro Bloser di Genova.
E' anche artista visiva, realizza collage, dipinti, sculture di sapone e materiali di recupero.
….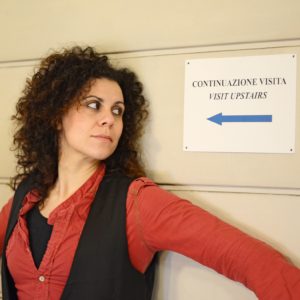 BIO ENGLISH VERSION
Songwriter, musician, visual artist from Genoa (Italy). Her music is a mix of italian folk, rock and very different influences. She uses rock languages but her songs and music also look for good melodies and renew roots of italian and mediterranean popular music. Her lyrics are full of poetry, a day-dreamer and surrealistic nature coexist with a very concrete language, direct and sometimes almost cruel, drawing the darkest aspects of reality and feelings. In her band play some very good musicians, appreciated for their originality and virtuosity: they are Federico 'Bandiani' Lagomarsino (drums), Robi Zanisi (guitar, bouzouki, cümbüş, lapsteel) and Osvaldo Loi (viola, synth). When she plays in solo, she likes to create layers of sounds and voices. She collected collaborations with other artists and she obtained important prizes as Premio Bindi in 2014, dedicated to an old italian composer. After taking part to many indie-music projects as duo Cinnamomo, with Francesca Traverso, she has been pointed out for her first solo work "Daimones", self published, 2009. Then, her long albums "Mandibole" (Orange Home Records, 2014) and "L' eremita" (Orange Home Records, 2018) has been appreciated and received very good reviews. She published in juin 2022 the last lp "Cristina Nico" (Lilith Label / Orange Home Records, 2022), a mix of folk, rock, world music that showed her ability to connect songwrtiter's attitude with a true rocker's soul.
With Sabrina Napoleone and Valentina Amandolese, friends and songwriters, played in a special trio called INA/INA/INA and founded Lilith, no profit organization engaged in creation and promotion of musical and cultural events, as "Lilith Festival della Musica d'Autrice": the mission is to give the right space to women in music and art and to fight every form of discrimination and violence. With actress and poet Bettina Banchini wrote, performed and played recital "Les Electriques", with texts of Dorothy Parker, Samuel Beckett and others. With actresses Cristina Cavalli, Irene Serini and Sabrina Napoleone wrote, performed and played the theatral show "Niente Niente".
As visual artist, she likes to paint, to make collages and strange sculptures with recicled materials and objects.